Pain Syndromes, Trauma, Spasms

Indications: Blood Stagnation and Qi Stagnation. All-natural, non-narcotic herbs that alleviates Blood and Qi Stagnation leading to pain. According to Chinese medicine, pain cannot occur without the stagnation of Qi and/or Blood. This formula is not to be compared with medicinal pain killers, rather it addresses pain by acting on the underlying causes of Blood Stagnation and inflammatory responses due to trauma.
Note: Organs mentioned are energetic organ systems according to TCM, not western medicine.
Related Article: Learn how Chinese medicine addresses lower back pain
Great Mender in Powder Form Linked Here
Supplements Facts
Active Ingredients:
Curcuma spp. root - yu jin - certified organic
Salvia miltiorrhiza root - dan shen - certified organic
Commiphora myrrha resin - mo yao - wildcrafted
Carthamus tinctorius flower - certified organic
Paeonia rubra root - chi shao - certified organic
Angelica sinensis root - hong hua - dang gui - certified organic
Achillea millefolium flower and herb - tu yi zhi hao - certified organic
Cimicifuga racemosa rhizome - certified organic
Boswellia carterii resin - ru xiang - wildcrafted
Citrus aurantium peel - zhi shi - certified organic
Foeniculum vulgare seed - xiao hu xiang - certified organic
Althaea officinalis root - certified organic
Herbal Teapills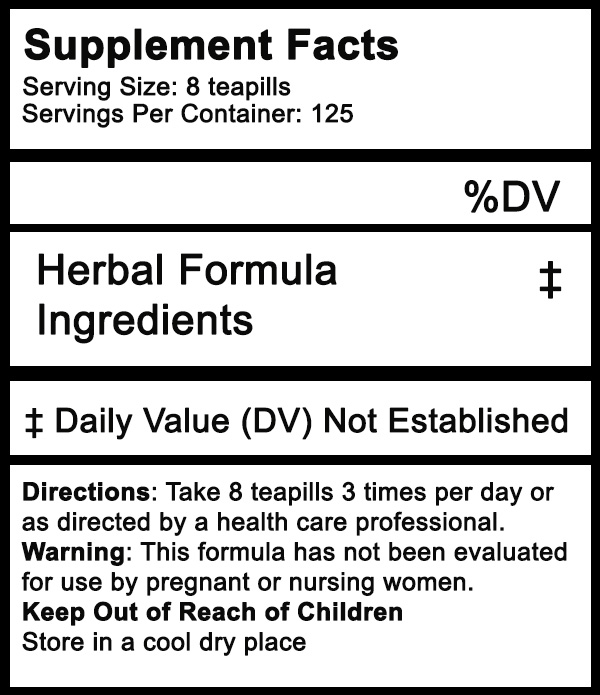 Quantity-4 oz./114 gr. - Approximately 1000 teapills
Bottle lasts about 3-5 weeks
Serving Size: 8 Teapills
Servings Per Container: 125
Directions: Take 8 teapills 3-5 times per day or as directed by a health care professional.
Other Ingredients: 30% Certified Organic Brown Rice Flour
General Information:
Warning: This formula has not been evaluated for use in pregnant or nursing women. Contra-indicated in pregnancy and for those with bleeding disorders or who are taking blood thinning medications. As always, check with your doctor before starting any new diet, excercise, or supplements program.
Keep Out of Reach of Children.
Store in a cool dry place 56-82ºF.
More about tea pills and powders
This information has not been evaluated by the Food and Drug Administration. This information is not intended to diagnose, treat, cure, or prevent any disease.