Qi and Blood Stagnation

Indications: Blood Stagnation and Qi Stagnation of the Lower Jiao.
Related Article: Learn how the Lower Jiao includes the uterus and reproductive organs according to Chinese medicine; stagnation of the Lower Jiao can be related to PMS, endometriosis, PCOS, uterine fibroids, and infertility.
Caution: In fertility programs (for those actively trying to conceive and not presently on birth control), this supplement would be taken during the first half of the cycle only as it is contraindicated during pregnancy.
Note: Organs mentioned are energetic organ systems according to TCM, not western medicine.
Stasis in the Lower Palace in Powder Form Linked Here
Supplements Facts
Active Ingredients:
Vitex agnus-castus fruit - huang jing zi - certified organic
Paeonia lactiflora root - bai shao - certified organic
Paeonia lactiflora root - chi shao yao - certified organic
Ligusticum lucidum fruit - nu zhen zi - certified organic
Salvia miltiorrhiza root - dan shen - certified organic
Angelica sinensis root - dang gui root - certified organic
Cinnamomum spp. bark - rou gui - certified organic
Foeniculum vulgare fruit - xiao hu xiang - certified organic
Citrus aurantium peel - zhi shi - certified organic
Artemisia vulgaris herb - ai ye - certified organic
Asparagus racemosus root - shatavari - certified organic
Curcuma spp. rhizome - jiang huang - certified organic
Althaea officinalis root - marshmallow - certified organic
Herbal Teapills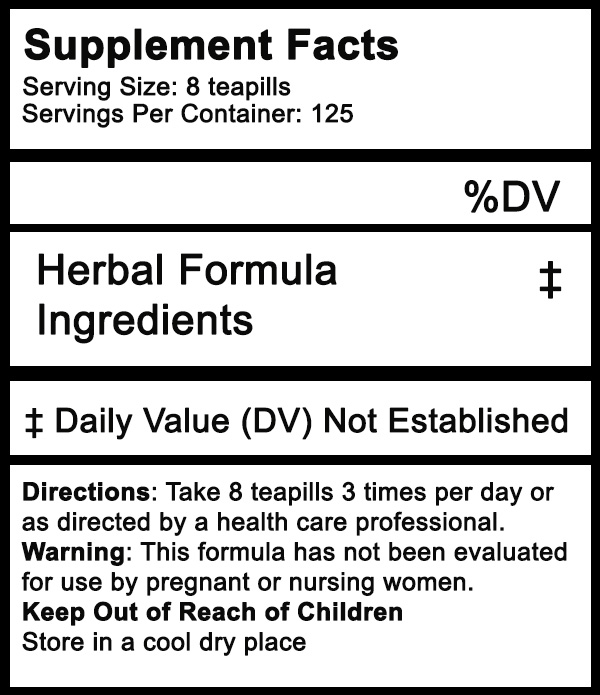 Quantity-4 oz./114 gr. - Approximately 1000 teapills
Bottle lasts about 5 weeks
Serving Size: 8 Teapills
Servings Per Container: 125
Directions: Take 8 teapills 3 times per day or as directed by a health care professional.
Other Ingredients: 30% Certified Organic Brown Rice Flour
General Information:
Warning: This formula has not been evaluated for use in pregnant or nursing women.
Keep Out of Reach of Children.
Store in a cool dry place 56-82ºF.
More about tea pills and powders
Formula Break Down:
Vitex agnus-castus fruit, or chaste berry is a western version of vitex used in hormonal balancing.

Paeonia lactiflora root, white peony, or bai shao soothes the Liver, and the Liver controls menstrual blood according to Traditional Chinese Medicine (TCM). Additionally, Liver Qi Stagnation is often at the root of gynecological disorders.

Paeonia lactiflora root, red peony root, or chi shao yao breaks up Qi and Blood Stagnation in the Lower Jiao.

Ligusticum lucidum fruit, privet fruit, or nu zhen zi nourishes the Kidney and Liver energetic organ systems, and according to TCM the Liver-Kidneys are pivital in balancing the endocrine system.

Angelica sinensis root, or dang gui root moves Blood, builds Blood, and is popular in menopausal and hormonal herbal blends.

Cinnamomum spp. bark, cinnamon bark, or rou gui has a warming quality that grounds Kidney Yang Qi necessary for healthy reproduction.

Carthamus tinctorius flower, safflower, or hong hua breaks up Blood Stagnation.

Foeniculum vulgare fruit, feenel seed, or xiao hu xiang benefit the Liver and help make this formula more digestible.

Citrus aurantium peel, bitter orange, or zhi shi helps to direct Qi in the correct direction.

Artemisia vulgaris herb, mugwort, or ai ye is often used in western herbalism to balance hormones.

Asparagus racemosus root, or shatavari is a famous Ayurvedic herbal used for all types of women's gynecological disorders.

Curcuma spp. rhizome, turmeric, or jiang huang combats inflammation throughout the body.

Althaea officinalis root, or marshmallow improves the absorption of this herbal formula
This information has not been evaluated by the Food and Drug Administration. This information is not intended to diagnose, treat, cure, or prevent any disease.